Thompson Technique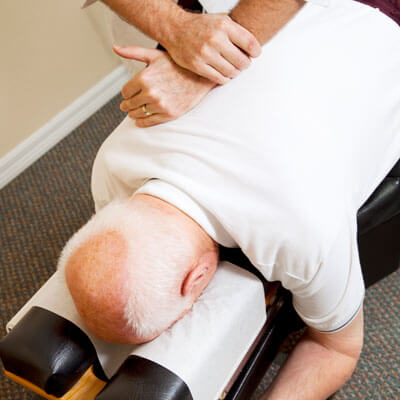 Developed by Dr. J. Clay Thompson, the Thompson Technique has evolved into a system of analysis and a method of adjusting the full spine. The combination produces accurate adjustments that also are comfortable. As the Thompson Technique is so unique, Dr. Thompson was granted a patent in 1955. Since then, due to its precision and excellent patient results, the technique is used around the world.
A System of Analysis
Early chiropractors noticed that vertebral subluxations would create the appearance of a short or contracted leg. Employing a protocol of comparing leg lengths while the patient turned their head, helped identify whether the vertebral subluxation was located in the upper, middle or lower back.
The Terminal Point Table
The Thompson Technique uses a segmental "drop" table. Once you step onto the platform, the table will gently lower you into a horizontal position. This position helps maintain any inequality in leg length.
"Drop pieces" are located along the surface of our table. These pieces support each area of your spine until the thrust is given. Then, each drop piece gently gives way, decreasing the amount of energy required to move a specific spinal segment.
Potential Benefits of the Thompson Technique
Patients who get adjusted with the Thompson Technique may experience improved posture, increased strength and flexibility. Patients also may experience the following:
Improved ability to relax and sleep better
Reduced aches and pains
Increased tolerance to stress
Our experience is that it's not unusual for patients to get complete relief from their symptoms after a few sessions.
Book an Appointment
If you'd like to experience for yourself the Thompson Technique, contact our South Perth practice today to schedule an appointment!CONTACT US

Thompson Technique South Perth, Como & Kensington, WA | (08) 9368 0100